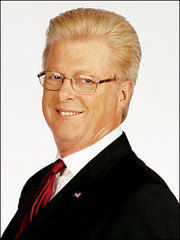 Prior to his career at Fox News Channel, which he began in 2000 as host of "FOX News Live," Gibson hosted the MSNBC nightly news talk programs "Newschat" and "Internight." He also served as substitute anchor for CNBC's "Rivera Live."
Preceding the existence of MSNBC, Gibson hosted a news program for America's Talking. Gibson began his broadcasting career as a West Coast correspondent for NBC News Channel, where he supplied NBC affiliates with live reports on various breaking stories and events such as the O.J. Simpson trial.
John Gibson is also the author of two best-selling books: "Hating America: The New World Sport" and more recently, "The War on Christmas."
Call John between 11AM-2PM at 888-788-9910.