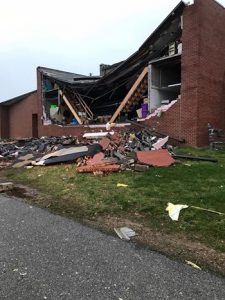 The students of Goodman Elementary who lost their school in a tornado four months ago, are benefiting from the construction of Neosho's new Junior High building. Neosho School District Public Relations Director Meagan Spangler tells NewsTalk KZRG where the Goodman students will be attending classes this fall.
"All of Goodman, they will be located at the middle school where the seventh grade used to be," Spangler says. "They're all together this year. We're very grateful for that."
Demolition is being finished on the building damaged by the storm. The school district must finish coordination with its insurance provider before construction plans can be announced for a new school in Goodman.