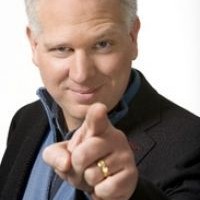 MONDAY-FRIDAY 8:00AM-11:00AM on News Talk KZRG
SATURDAY 3:00PM-6:00PM on AM 1230 The Talker
THE FUTURE OF TALK RADIO!
The former Top 40 DJ entered the talk format in 2001 and already his show is broadcast nearly 200 stations nationwide. Millions of listeners are drawn to this modern-day story teller who is armed with a quick wit, an informed opinion, and a unique ability to inspire others to experience their full potential with an open heart. His on-air presence is both commanding and inviting a trait he has been refining for the last 27 years. Glenn is proud to call FM 102.9 AM 1310 NEWS/TALK KZRG home in the four states!
Visit Glenn Beck's Website: www.glennbeck.com
Get Glenn's Newsletter! | The Glenn Beck Studio Store | Glenn's TV Show